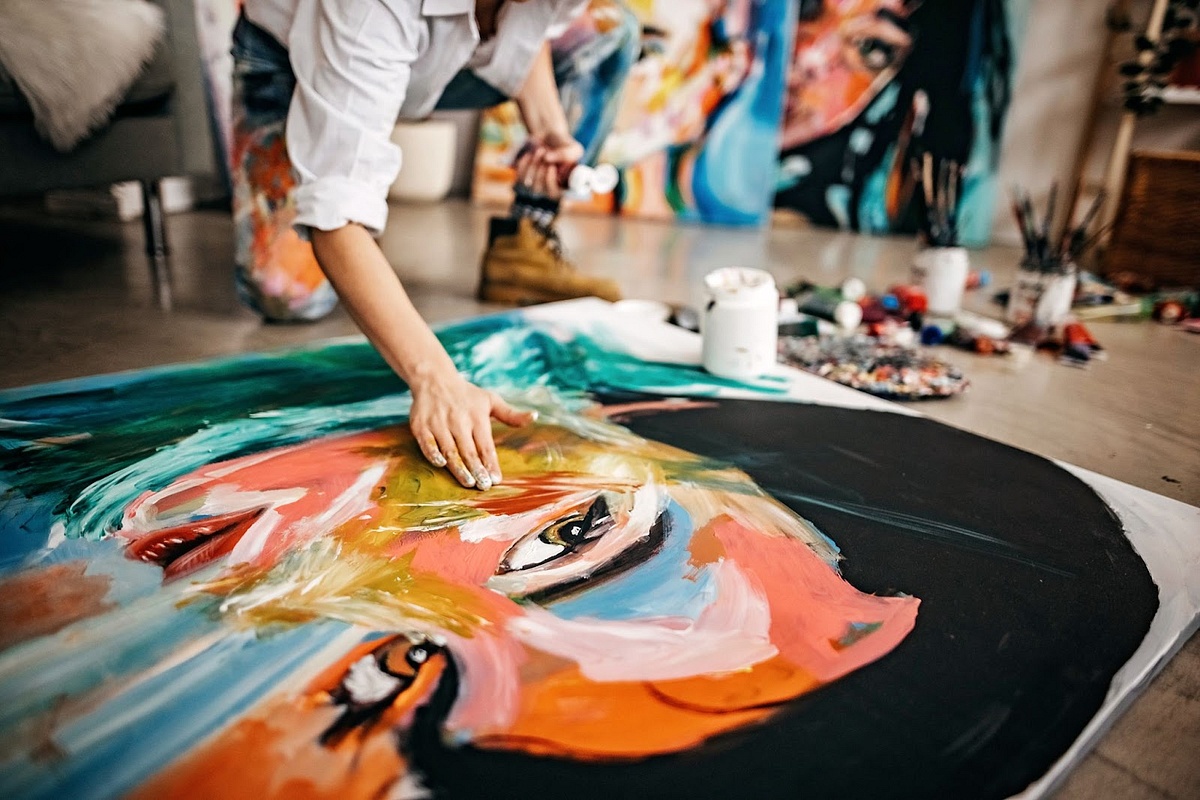 You don't have to be an art historian or live in a multi-million dollar penthouse to invest in art. From classic works to modern pieces, artwork of various types can be worthwhile additions to your investment portfolio.

Art investing may sound like lining your walls with Renaissance paintings or the latest modern work. You can, however, invest in art without being an industry expert or even physically hanging art in your home. Find out how to invest in art in 2022 as a beginner and what place it has in your investment strategy.
How to Start Investing in Art
While you could head to local art galleries or shop online and purchase the first piece that you see, you probably won't earn a major profit from it. Instead, follow these basic steps to get started in art:
Set a budget: Like any investment, you should start your art investing by considering how much you wish to invest. For art and other alternative assets, you should prepare at least $5,000 for your first investment.
Research the industry: This market isn't tied to the stock market or regulated. You could receive a huge return on a piece from an up-and-coming artist or your investment could lead to little or no return.
Find an avenue to purchase art: There are lots of unique opportunities for avenues to purchase art, so it's important to work with an advisor or investment company.
Be patient: Once you start investing, it's important to remember patience. Both traditional and alternative asset investments require time to see significant returns. Consider investing in art if you have at least 10 years of time to wait for it to become a profitable investment.
Sell your artwork: You may have to work with an auction house or broker to sell your investment for the best price.
These five steps are more complicated than they seem. Instead of trying to navigate this process on your own as a first-time art investor, use a Hedonova fund to invest in art through Masterworks in addition to other alternative assets.
Ways to Purchase Art as an Investment
Most art investors use their art collecting passion as an investment. With this strategy, you need to head to a local gallery or auction house. Famous auction houses include Christie's and Sotheby's. There are also online opportunities to purchase art, like on Artnet.
After strolling through galleries, talking to curators, and researching famous artists, you'll make a purchase. You'll then need to bring the art home, or to a safe storage location, and pay the following costs:
Storage fees
Art insurance premiums
Maintenance/restoration costs
Another way to purchase art is through an investment company. Work with Hedonova to buy fractional shares of artwork. Fractional shares are small increments of the value of a physical asset, similar to stocks, that are then sold to various investors. You can own a small piece of a Banksy or Picasso without investing millions. This strategy allows you to invest in art without worrying about storage and insurance costs.
Types of Art You Can Invest in
Art investing covers a broad range of assets. You can choose to purchase artwork that speaks to you and improves the visual appeal of your home, or you can simply invest in fractional shares of art chosen by a professional team of investors at Hedonova or another investment company.
Regardless of how you'll invest in art, there are several categories you should know about. Here are the basic categories of art you can invest in on your own or as part of an investment company:
Reproductions: As the name implies, these pieces of art are copies of originals. They're typically mass-produced to be used as decoration more than investment. Even high-quality reproductions aren't likely to increase in value enough to be considered a worthwhile investment.
Prints: These copies are of a higher quality. Also known as giclées, these copies can be slightly rarer than reproductions and can be worth some value. They're not the same as originals, however, and may have limited opportunities as an investment.
Originals: With the highest payoff potential, original artwork often comes at a steep price. Investing in your own original from a famous artist may cost hundreds of thousands or even millions, so consider a fractal share system to add a small piece of famous artwork to your portfolio.
Digital art: Non Fungible Tokens (NFTs) are digital artwork that is also being bought and sold for millions. These are traceable and verifiable forms of digital art. Some of the best-selling NFTs, like Crypto Punk, sell for between $30,000 and $10 million.
Tips on Researching Art Investments
As a beginning art investor, you probably aren't going to go out and buy one of the greatest works of art to add to your collection. There are countless avenues you could follow, artists you could invest in, and even forms of artwork to consider. Use these tips to help you research the art investing strategy you wish to take:
Artistic legends: Think Leonardo da Vinci and other classic artists from the 18th century. These are some of the most costly originals but bring along a sense of stability since they routinely top the charts in terms of value.
Blue-chip artists: Similar to blue-chip companies, these artists are leaders of the industry and promise to be so in the near future. Andy Warhol is a common example of an artist who created blue-chip art in the current market.
Rising stars: You may not have heard of any of the rising stars and that's exactly the point. Dive into the industry and tap all your art connections to try to predict who will be the next Andy Warhol, Banksy, or Pablo Picasso, and invest accordingly.
How to Fit Art Into Your Investment Portfolio
Since the global art market is currently valued at $65.1 billion, according to Statista, it can be tempting to dive head-first and make a significant investment in fine or digital art. This alternative asset is a great addition to your portfolio but there are some considerations to make if you're considering making a large investment.
Most investors recommend you use art to diversify your alternative asset portfolio. Hedonova uses an alternative asset fund strategy, instead of just an art fund, which includes about 4% investment in art. This percentage is balanced by real estate, cryptocurrencies, startups, agronomy, equipment finance, and other asset classes.
These other assets offer their own benefits as investment opportunities. The goal of an alternative asset fund is to invest in assets that aren't strongly correlated with the S&P 500.
Considerations for Investing in Art
Like all forms of investing, art investing comes with risks. Explore some of the more common risks as you see how art can fit into your portfolio:
Illiquid asset: You may be able to sell stock or other investments soon after purchasing them but it's more difficult to sell art. You'll need to find an auction house or dealer willing to work with you. Fractional shares of art are more liquid and may help reduce this risk.
Long-term investment: Just like the stock market, the art world has many ups and downs. You shouldn't expect to sell your investment within days and make a profit. Typically, you should hold onto an investment for around 10 years before considering selling art at a profit.
Subjective value: Art has a lot of subjective value. Artists who started their careers as rising stars may fade into relative obscurity in decades to come. What is a priceless piece to you may be an uninspiring investment for others.
These considerations should be taken into account but shouldn't prevent you from investing. As long as you have at least $5,000 and wish to diversify your portfolio with alternative assets, then fine art or digital art may be a good choice for you.
Benefits of Investing in Art
As long as you're willing to accept some of the risks of this form of investment, artwork may bring you some of these benefits as an investing strategy:
Investment not correlated with the market: A low correlation with the stock market means you don't have to worry about this investment when the market takes a dip or dive. Art doesn't appreciate at a perfect upward trajectory but it does ebb and flow in a way that's largely uncorrelated with traditional stocks.
Assets without depreciation: Companies can go bankrupt, vehicles can rust, and entrepreneurs can fail to meet their startup goals. Fine art, however, has been valuable for hundreds of years. Classic art in particular is more valuable now than it was when it was first commissioned, so it can be a great investment with long-term returns. As long as you, or your investment company, carefully chooses fine art and ensures it's properly maintained, you won't have to worry about depreciation.
Visually appealing investments: There's no harm in investing in something that looks and sounds cool. Visually appealing artwork is an asset that can improve the interior design of your home while possibly appreciating in value. Even if you own a fractional share, you still have an investment that's far more exciting to talk about than a typical mutual fund.
Unique experience: Art investing is a learning opportunity. It gives you the opportunity to brush up on your art history or see what powerful statements modern artists are making through their contemporary art. The 20.4% historical returns on artwork can make a financially unique, and lucrative, experience.
How Much to Invest in Art
When you hear about a new investment strategy, it can be tempting to direct all your resources toward it. While artwork can have an important place in your portfolio, it's not a failsafe gold mine. Careful investment strategies should be used to hedge against artwork that may not appreciate as well or sell as easily as you hoped.
Hedonova recommends you invest approximately 4% of your investment into artwork. You can do this through careful research, hours of visiting art galleries, and interviews with curators, or you could simply invest in an alternative asset fund.
Similar to a traditional mutual fund, this spreads out your investment over many different types of assets and many different assets within each type. Start with at least $5,000 and see where it takes you.
After your first investment of $5,000, it's time to consider how much you should set aside for follow-on investments. Funds through Hedonova don't have a minimum threshold for these additional investments, so you can set aside a small portion of your weekly, monthly, or even yearly income to grow your investment.
Start Your Art Investing Portfolio With Hedonova
Whether you're looking to invest $5,000 or $500,000, art investing is a great way to diversify your portfolio. Art carries some risks, like any investment, so consider working with an investment company that leverages fractional shares to spread out the risk. Prepare to invest in art for at least 10 years to enjoy those long-term returns. If you want a unique investment opportunity that isn't strongly tied to the market ebb and flow, learn more about investing in an alternative asset fund with Hedonova.
FAQs
Is art a good investment in 2022?
Art investing is a great option for diversifying your portfolio. Research the industry and consider working with an investment company to purchase fractional shares of art, rather than spending thousands or millions on an entire piece of famous artwork. Use fine art investment as a small portion of your portfolio, not your entire investment strategy.
Is there an ETF for art?
Art doesn't have an exchange-traded fund (ETF) or mutual fund. This means you'll need to either invest in artwork through your own research or invest with companies like Masterworks to receive fractional shares of valuable art. Consider using Hedonova's approach to alternative asset investment for a more balanced option.
How do I start investing in art?
There are two ways to start investing in art: You can either choose to learn about the industry and carefully select a piece of art to purchase for your home, or you can invest with companies like Masterworks to receive fractional shares of famous and/or valuable artwork. The second option helps you diversify your art investment and get started without being an art expert.