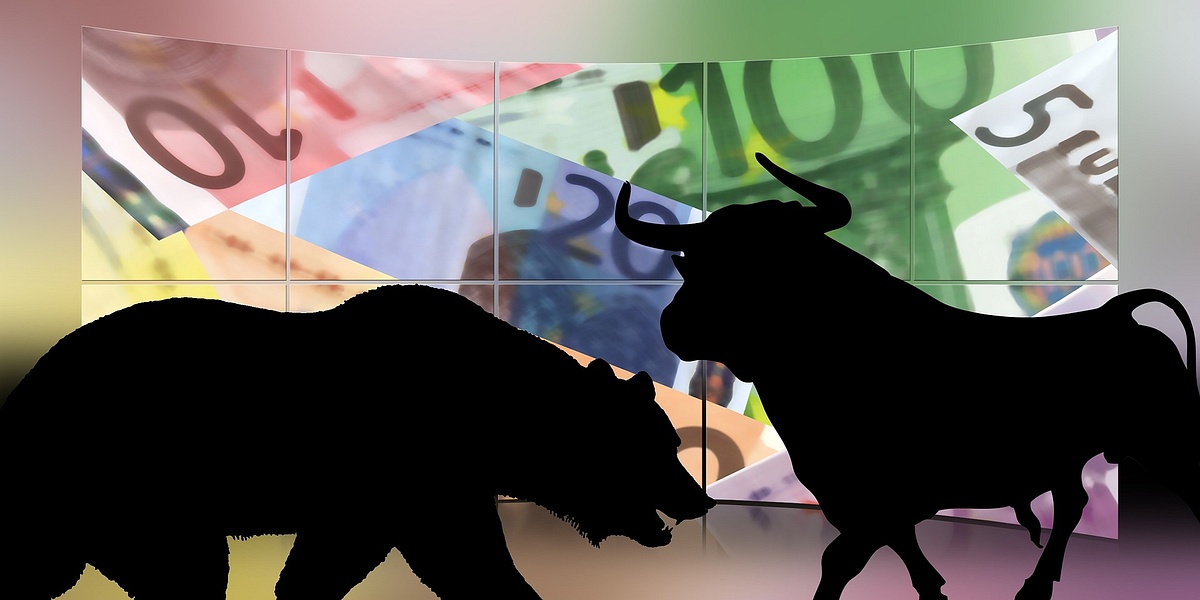 Recent years have been full of new opportunities and looming uncertainty, from the "great resignation" and housing boom to the ongoing pandemic and rise in inflation. Now, as of June 13th, Wall Street has found itself amid a bear market. For many investors, going through a time like this is a scary notion, but it's nothing to panic over.  
Fortunately, bear markets are common — there have been 26 bear markets since the infamous stock market crash of 1929 — and they don't last forever. In fact, they offer a unique chance for long-term investors to take advantage of the drop in stock prices. As such, there are several things you can do to stay ahead of the investment game and ease your worry. So, keep reading for great tips and best practices on how to invest in a bear market. As a bonus, we'll also throw in information on where to invest in a bear market.  
What Is a Bear Market? 
In the simplest terms, a bear market is a market that experiences a prolonged drop in price. Specifically, this occurs when a market (e.g., industry sectors), index (e.g., S&P 500), individual security (e.g., stocks, bonds), or commodity (e.g., gold, oil, grains) falls below 20% over at least two or more months. Typically, a bear market bottoms out at about 35.1%, but it varies greatly. In contrast, a bull market is one where prices rise over 20%. 
What Causes a Bear Market? 
There are many reasons why a market may enter bear territory. Some of the most common causes include: 
Weak or sluggish economy (e.g., China's slowing economy) 
Pandemics (e.g., COVID-19 pandemic) 
Drastic shifts in the economy (e.g., move to online shopping)  
Wars (e.g., Russia-Ukraine War) 
Geopolitical crises (e.g., ban on Russian oil imports) 
Market bubble bursts (e.g., 2008 housing crash) 
Changes in tax rates (e.g., 2022 federal interest rate hike) 
Why Is It Called a Bear Market? 
There are a couple of theories for why declining markets are called "bear markets." Early bearskin traders from the pioneer days used to sell skins even though they hadn't yet bought them from fur trappers. Their strategy was to purchase fur at a price lower than what they'd sell them for, so goes the term "bear market." The other theory is that declining stock prices represent a bear attacking with its claws striking downward. 
Resist the Temptation to Sell!
When the going gets tough, and it seems like there's no end in sight, the first thing that happens is most people get scared and start selling their investments. Contrary to popular belief, exiting or trying to time the market is NOT a good strategy. You should resist the temptation to sell. Low inflation, low-interest rates, and other factors can make the market volatile (go up and down), which means it's much more unpredictable and too risky to base on hunches. If you sell, chances are you'll miss out on eventual gains in the long run. It's been said that declines pave the way for the future, so hold out unless you absolutely need the money. 
Apply Dollar-Cost Averaging to Your Strategy  
Entering a bear market can wreak havoc on professional traders. However, retail investors like yourself don't have to answer to investors dependent on your actions. Instead, you can relax a bit and consider your options. Long-term investors can easily ride out the bear market with time, patience, and a diversified portfolio. Dollar-cost averaging is a great strategy to take as well.  
Most people tend to think, "buy the dip," a catchphrase that has recently become popular with the latest craze in cryptocurrency investing. But how do you know it won't dip farther after you fork over your cash? You will likely be wrong; that's why it's too risky, albeit tempting. When you go the dollar-cost averaging route, you invest about equal amounts over time rather than pouring a large amount in at once. This way, you'll take advantage of the dips and the highs.  
Look Into Sectors That Perform Well in Market Downturns  
When stock prices are down, other types of investments perform exceptionally well during a bear market. In addition, specific industries and market sectors fare better also. As such, it pays to look into the following asset classes as you prepare to weather the bear market. 
Defensive sectors are known to hold up during bear markets, including utilities, food, personal items, household goods, healthcare, and real estate equities.
Bonds tend to move opposite of stock market prices, so additional high-quality, short-term bonds are often advantageous.
Index funds or ETFs (exchange-traded funds) are a collection of stocks or bonds managed by a single fund, providing a lower-risk, diversified portfolio.
Dividend stocks tend to be less volatile, offering substantial payout from companies with higher-than-average dividend growth.  
Diversify Your Portfolio With Alternative Asset Classes 
Cash, stocks, and bonds are the norm when it comes to traditional investment asset classes. During a bear market, alternative investments can be of great value. They can offer the low risk and stability — along with potentially high returns — that stocks and other asset classes typically don't deliver during a bear market.  
Here are several alternative assets for how to invest during a bear market. 
Alternative assets differ from traditional assets in that they're unregulated by the SEC, illiquid (difficult to sell or exchange for cash), and aren't correlated with the standard asset classes (don't move in the same direction). However, payout potentials make these investments great as a hedge against the bear market.
Keep an Eye Out for Bear Market Recoveries 
Watch for signs as the bear market recovers as you continue to invest. You can best understand how a bear market comes about through its phases. There are four bear market phases: 
Stock prices are high, market sentiment – investors cash in on their profits
Stock prices fall sharply, causing trading and corporate profits to drop – investors begin to panic
Stock prices rise - investors enter the market
Stock prices drop slowly – investors become attracted again
If you're wondering how long a bear market will last, well, it all depends. Bear markets can be cyclical and last for weeks or months, or they can be long-term, lasting years and decades. Based on historical data, it's estimated that a bear market lasts an average of 16 months. So, that could bring us to about April of next year, but other "expert" predictions may place the potential date earlier and later. 
Have a Long-Term Strategy In Place 
A bear market is challenging for professional and retail investors alike. Although bear markets don't last forever and prices eventually come back up, there's no easy way to predict when. Several positive signs indicate we're moving out of bear market territory. These come down to value, cash flow, and quality. During this time, you'll notice that companies with more consistent cash flows, strong balance sheets, and pricing power are the most likely to outperform.
There are better ways to withstand a bear market than to go into a panic and start selling everything. One option is to invest in traditional assets and sectors that work in opposition to or outperform the stock market. In addition, many unique alternative investments offer high-payout potentials for investing during a bear market. Your options are wide open if you're an accredited investor. No matter what you choose, be sure to have a long-term plan strategy in place. While it also helps to have patience and discipline, the key is: diversity, diversity, diversify.
How Can Hedonova Help?
Hedonova is an alternative asset hedge fund that's open to anyone. The fund has more than 12 alternative asset classes all rolled up into a single fund. This makes it a breeze for you to invest in everything from artwork and cryptocurrency to startups and real estate. The portfolio has a low correlation to the stock market, so it's been outperforming the S&P 500. Without further delay, you can get started investing during a bear market. If you have questions or need assistance, don't hesitate to contact us today.