NBA Top Shot was created as a joint venture between the National Basketball Association and Dapper Labs. Top Shot is a blockchain-based platform that allows sports fans to buy, sell, and trade unique versions of officially licensed video highlights. The project's digital marketplace is designed to be intuitive and accessible for sports fans and collectors who are not necessarily familiar with cryptocurrencies and blockchain technology. The platform's underlying blockchain technology provides several unique benefits to those involved in NBA Top Shot, and enables a wide array of cutting-edge features.
NBA Top Shot: A New Way to Ball
NBA Top Shot is a joint digital collectibles venture between the National Basketball Association (NBA) and Dapper Labs, the latter of which released the pioneering NFT CryptoKitties platform in 2017. NBA Top Shot is a blockchain-based platform that allows sports fans to buy, sell, and trade unique versions of officially licensed video highlights. The project originated in 2019, spent most of 2020 in development, and rose to popularity with upwards of a million registered users in 2021.
NBA Top Shot taps into an enthusiastic consumer base, and drives blockchain adoption by lowering barriers to entry, requiring minimal understanding of the underlying technology itself. Top Shot's digital marketplace is designed to be intuitive and accessible for sports fans and collectors of trading cards and other sports memorabilia, regardless of familiarity level with cryptocurrencies and blockchain technology.
What Is NBA Top Shot?
At its core, NBA Top Shot offers fans the chance to collect "Moments," which are tradable non-fungible tokens (NFTs) that contain a video clip of a specific game highlight as well as other relevant information, such as statistics about the specific game and the player featured in the clip. Each NBA Moment has a unique serial code and a provably fixed total supply cap, leveraging the Flow blockchain. Here's what a moment looks like.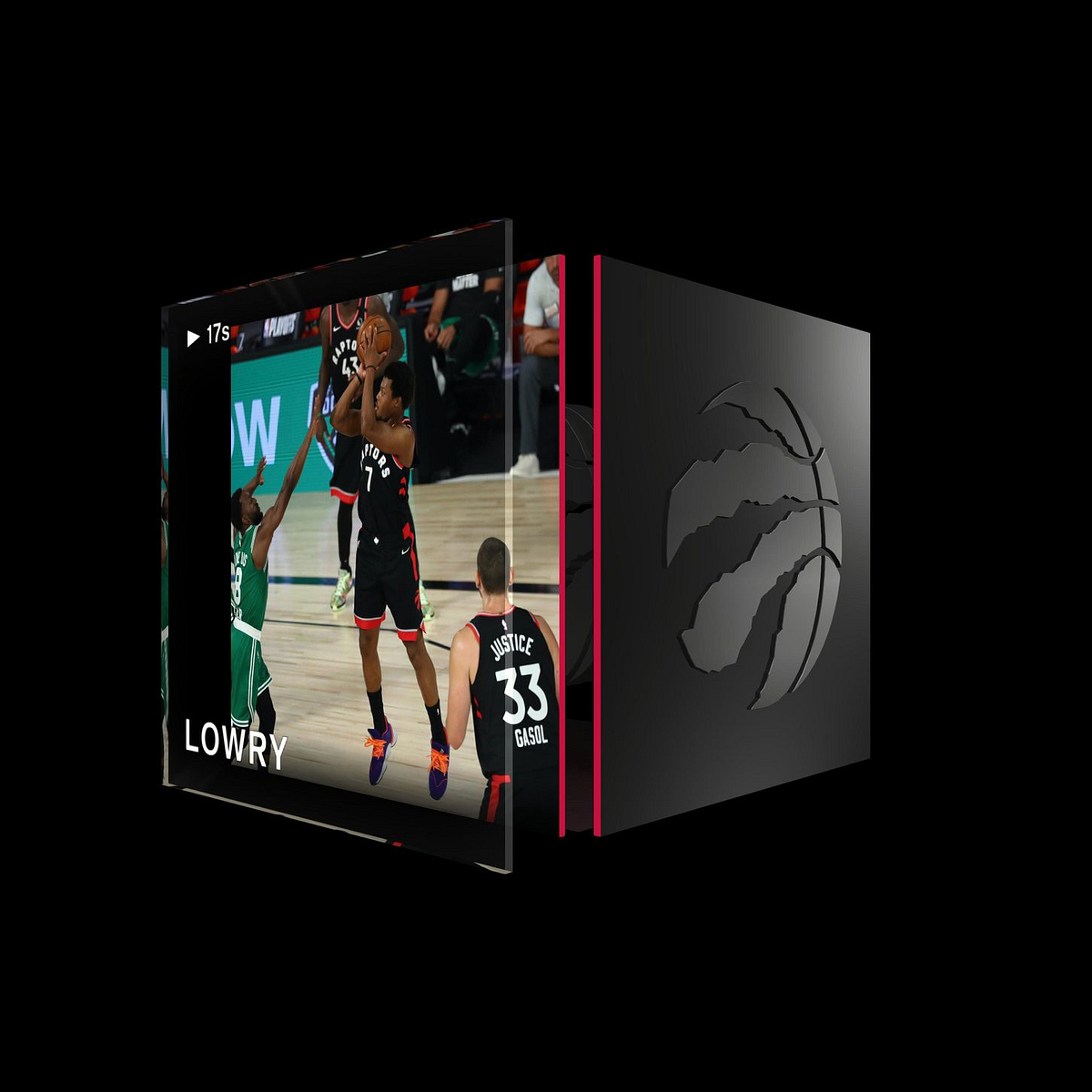 Moments vary in terms of scarcity and value. As of May 2021, there are five tiers of Top Shot Moments:

Genesis Ultimate (1 copy): Only available through special events.

Platinum Ultimate (3 copies): Only available through special events.

Legendary (25-99 copies): Can be found in legendary packs, which start at $230 USD. Legendary packs typically contain six common Moments, three rare Moments, and one legendary Moment.

Rare (150-999 copies): Can be found in rare packs and above, starting at $22. Each rare pack is guaranteed at least one rare Moment.

Common (1,000+ copies): Can be found in common packs, which start at $9 for nine Moments.

At present, there are three ways for people to obtain Top Shot Moments:
Pack Purchases: Most Moments are first released as part of a digital 'pack,' which users can purchase directly from NBA Top Shot. As with a pack of traditional trading cards, purchasers do not know what specific Moments are contained in each pack before making the purchase. NBA Top Shot releases new packs sporadically, and these packs are often themed. Examples include a Christmas-themed "Deck the Hoops" pack released in January of 2021 and a "Rising Stars" pack released in March of 2021. Users can sign up to receive email notifications about newly available packs, and once a specific pack type is sold out, it's out of stock forever.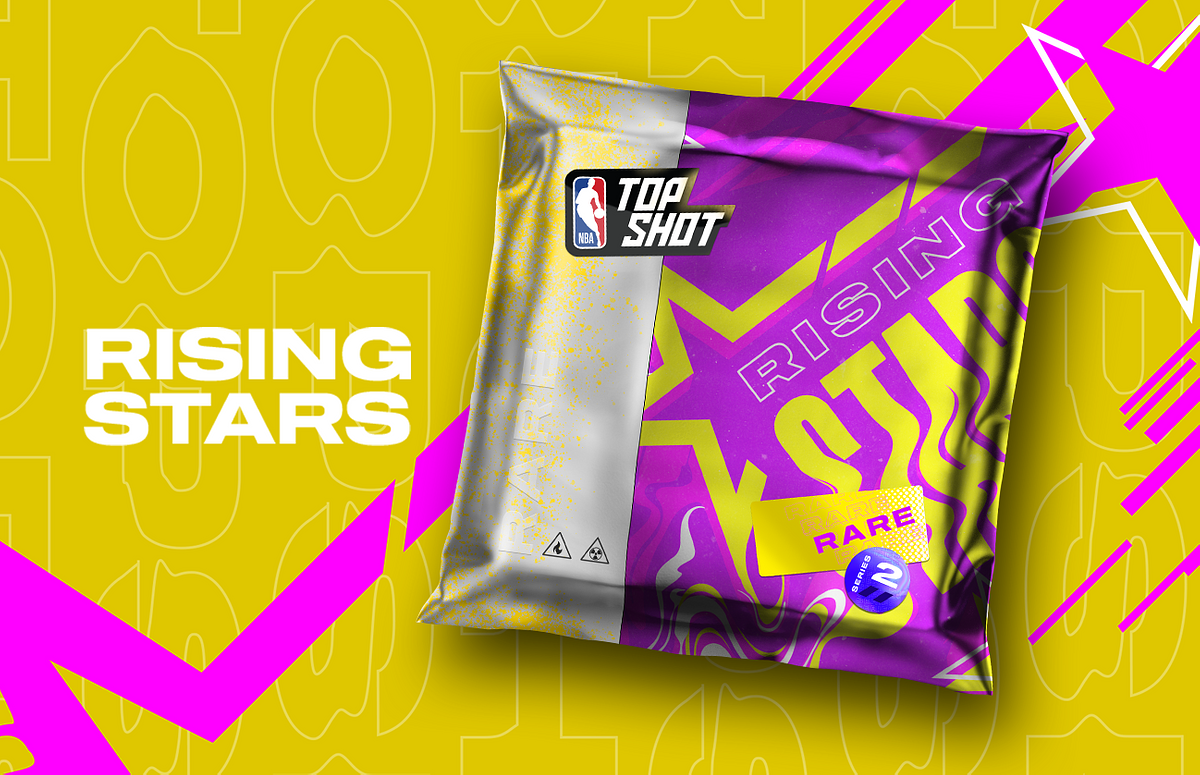 Challenges: Top Shot also occasionally issues "Challenges," which give users a chance to earn new Moments. During a Challenge, users have a fixed amount of time to accumulate a specific set of Moments. Once the allotted time has expired, every user that is holding the full set of required moments will earn a bonus Moment. Oftentimes the Moments won in Challenges cannot be found anywhere else. As a result, Challenges encourage users to trade amongst themselves, thereby adding dynamism and excitement to the market.
 This video explains Challenges well.
P2P Trading: Once a Moment has been acquired through a pack purchase or Challenge, users are free to trade or resell it, much like a physical trading card. However, unlike physical cards, each Moment's authenticity and scarcity is readily verifiable (via the Flow blockchain), and the full transaction history and past sale prices of each Moment is available for everyone to see. This data helps foster a transparent and trustworthy market environment. Further, while Moments can only be sold and traded on Top Shot's official platform, the user community determines the fair market value of every Moment after the initial point of sale. As a testament to the value of the platform's aftermarket enthusiasm and the significance of its community-driven elements, peer-to-peer (P2P) exchange of Moments accounted for over 95% of the total sales value on Top Shot's platform in the first quarter of 2021.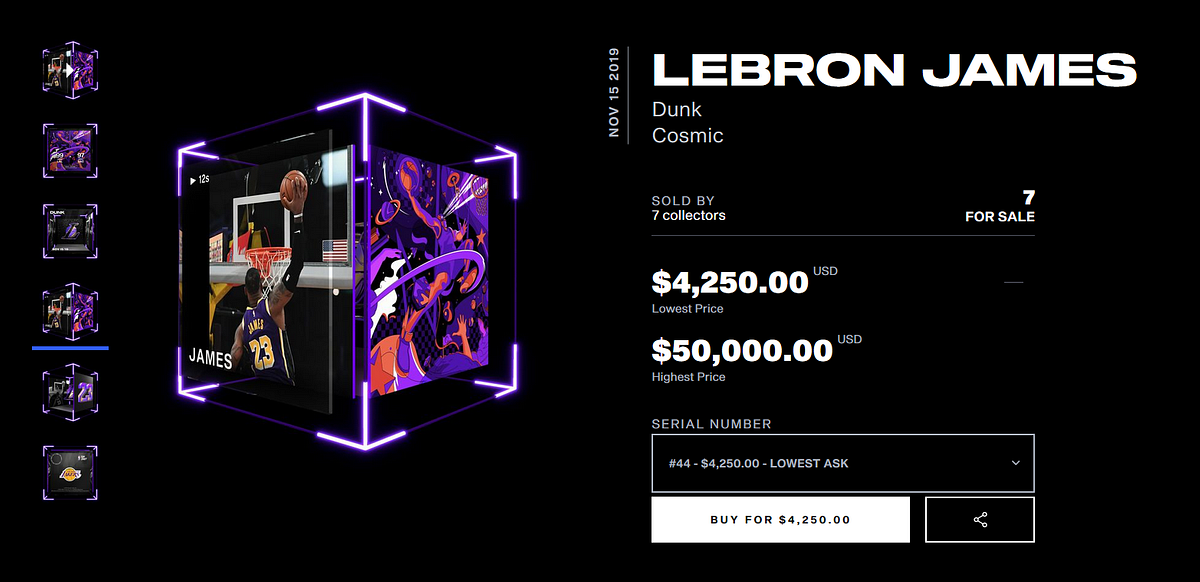 Why pay for Top Shot Moments. Aren't they just video clips?
As of March 2021, more than 800,000 accounts were registered on Top Shot, and these users have collectively generated over $500 million in sales. The fanfare seen in 2021 surrounding NBA Top Shot has been undeniable – packs of all rarity levels have often sold out within seconds, and in February 2021 a Moment of LeBron James dunking on Sacramento Kings' Nemanja Bjelica sold for $208,000.
However, some skeptics have questioned why people are willing to pay so much for a video clip they can watch for free online. One answer to this question is that humans are collectors by nature. Many fans have long been willing to pay a premium for team- and player-specific totems with little-to-no demonstrably practical value. If a 1952 Mickey Mantle card made by Topps — a piece of paper with minimal production cost — can sell for $5.2 million in 2021, who's to say what a rare Kobe Bryant highlight NFT will be worth to the right person in a few decades?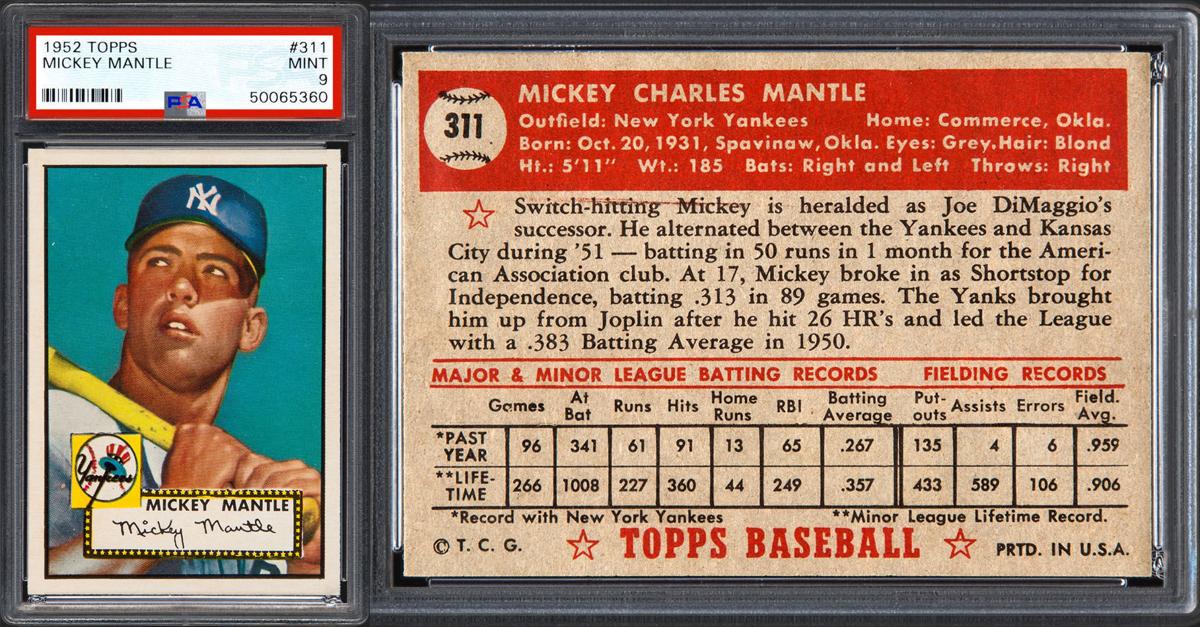 In other words, while each Top Shot Moment can currently be described as a cross between a trading card and a video clip, these NFTs are slated to feature new functionalities and benefits as Top Shot evolves over time. This game is expected to launch in mid-2021. By combining collector's items with a familiar eSports interface, Top Shot hopes to broaden its user base and create an entirely new way for fans to interact with the NBA brand and one other.
In addition to the Top Shot team's future development plans, several NBA players have also seen the value in Top Shots and are contributing to the project in their own ways. The Pelicans' Josh Hart, for instance, is a Top Shot user himself and occasionally livestreams himself opening new packs on Twitch. Other players have even begun trading Moments for real-life experiences, such as offering courtside seats or a specific game jersey in exchange for a Moment.
The Technology behind this
While Top Shot utilises decentralised blockchain technology in order to make it easier for users to trace and verify the authenticity and scarcity of their digital collectibles, this project's business operations are fairly centralised at base. The NBA selects which game highlights can be made into a Moment, and works with Dapper Labs to decide how many Moments they should mint for each highlight. This is currently a time-consuming, manual process, and the Top Shot team is considering new ways to standardise it or even incorporate fans into the decision-making process in the future.

A Moment's traceable history begins the moment it is minted by Dapper Labs. From there on out, the Moment's price history, ownership, and time-stamped transaction record will be permanently logged on the blockchain. This provenance, in addition to each Moment's unique serial code, helps ensure that each Moment is provably unique and non-fungible. Because all of this information is available for anyone to see, collectors and industry observers can easily determine which Moments the community values most, or see when the price of a specific Moment makes a significant move — and plan their trading decisions or ancillary commercial strategies accordingly. Such a comprehensive provenance structure is possible because every Top Shot Moment is an NFT. These blockchain-enabled collectibles allow users to prove scarcity and ownership in a digital world that has historically been inundated with unsanctioned file duplications and unrestricted content-sharing.

Once a user purchases a pack of Moments, the Moments are transferred to that user's encrypted wallet within the Top Shot network, where they can be showcased to other users or resold on the P2P marketplace. Top Shot makes a profit from pack sales, and also collects a 5% fee for each P2P exchange. These revenues are divided among the NBA, Dapper Labs, the National Basketball Players Association (NBPA), and outside investors (although the exact proportions of this fund distribution have not been disclosed).

As a result, Top Shot stakeholders — from the blockchain developers minting new Moments to the players featured in the highlights — have a vested interest in ensuring the success of the whole ecosystem, including P2P trades. By operating within a digital system with instantaneous trades, these stakeholders are able to eliminate packaging and shipping costs and avoid third-party authenticators and auctioneers, improving profit margins across the board.
Is there a catch?

While Top Shot users have clearly demonstrated that many fans are willing to purchase a tokenised asset that represents a specific NBA highlight, other fans may still be unclear about what exactly they would be spending their money on. The NBA still owns the highlight footage used in every Moment, and the organisation's media partners are still allowed to broadcast the video clips that are sold as Moments.

Furthermore, if a user violates the terms of service, Top Shot can suspend or delete that user's account and Moments from the platform without advance notice. In other words, while the track record of each Moment is practically tamper-proof — even for the NBA or Dapper Labs — the Top Shot team has the ability to destroy Moments if it deems the terms of service to be violated. In these respects, buying a Top Shot Moment is significantly different from buying a physical trading card, or even from buying bitcoin, and is more analogous to purchasing a software license (which could similarly be revoked if terms of service are violated). Overall, it's important to note that Top Shot was designed as a blockchain-enabled business with a relatively high degree of centralisation — especially when compared to well-known blockchain protocols such as Bitcoin.

Top Shot has also been criticised for the way the platform handles withdrawals. While the platform has generated hundreds of millions of dollars' worth of sales, as of March 2021, only $18.7M had been withdrawn from Top Shot. This may indicate users' willingness to keep their assets on the platform to some degree, but it can still take 30 days to get approved for withdrawals, and over a week for each withdrawal to be finalised once approved (as of 2021). According to the Top Shot team, this delay is due to the fact that the platform allows users to make payments using a range of both fiat currencies and digital assets. As a result, all withdrawal requests are subject to heavy compliance checks in order to mitigate the risk of money laundering, fraud, or other forms of nefarious activity. That being said, Top Shot is aware of concerns regarding its withdrawal process and plans to alleviate the issue by implementing an automated clearing house (ACH) for withdrawals to US banks.